Helping people be independent, safe, and healthy in their home
Our mission: "Local agencies working together to provide in home safety modification that supports Seniors, People with Disabilities and Veterans to age in place." We look at three things when deciding if a family/individual qualifies for the program: need, ability to pay, and willingness to partner.
Tillamook Habitat's Ramps & Rails Program offers loans to qualifying seniors, people with disabilities, and veterans.
You can pick up an application from our office located at 4192 HWY 101, Tillamook, OR 97141, or fill out the short form on this page.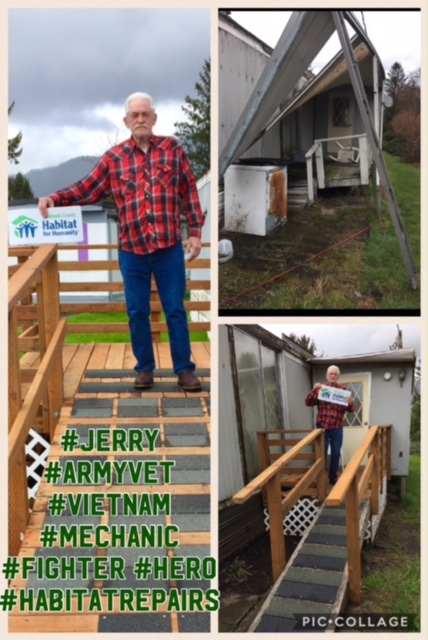 Ramps & Rails loans are paid back to Habitat for the cost of materials and labor. These payments are structured to be affordable for families and there is no interest charged! Many times the total cost can be lower if we are able to get materials donated and or get volunteer labor.
Volunteer Sign up!
We are seeking sponsors who want to support our Ramps & Rails program to ensure that seniors, people with disabilities, and veterans can live safely in their homes.
Sponsorship levels include:
$1,500 Ramp Sponsor
$500 Rails Sponsor
$100 Hardware Sponsor
Make a sponsorship payment online at tillamookhabitat.org or send a check to Tillamook County Habitat for Humanity at P.O. Box 988 Tillamook OR 97141.